Archive for July 2nd, 2010
Posted by admin
2 Jul, 2010
COLON CLEANSING | COLON CLEANSING ARTICLES | COLON HYDROTHERAPY FAQ | GALLERY COLON HYDROTHERAPY TESTIMONIALS | CONTACT US | VIDEO Seawaters Therapeutic Salinity Part 5 SeaWater Therapy Colon Hydrotherapy Retreat http://www.captaincolon.com 9. Several important gases are not conservative. These include oxygen and carbon dioxide. Oxygen dissolves in ocean surface water from the atmosphere. Photosynthesis is […]
COLON CLEANSING | COLON CLEANSING ARTICLES | COLON HYDROTHERAPY FAQ | GALLERY
COLON HYDROTHERAPY TESTIMONIALS | CONTACT US | VIDEO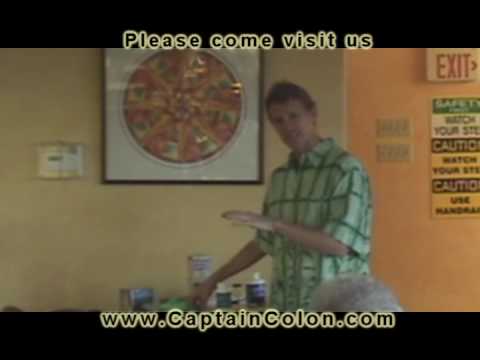 Seawaters Therapeutic Salinity Part 5
9. Several important gases are not conservative. These include oxygen and carbon dioxide.
Oxygen dissolves in ocean surface water from the atmosphere. Photosynthesis is also a source of oxygen to ocean surface waters.
Oxygen is consumed by respiration. Rarely, animals and bacteria use all of the oxygen in sub-surface waters, which become anoxic. This can only happen if the waters are isolated from the atmosphere in some way.
Carbon dioxide is consumed during photosynthesis and released during respiration. It can also be exchanged with (dissolved from and released to) the atmosphere.
Carbon dioxide can react with water to form bicarbonate and carbonate ions.
CO2 + H2O –› HCO3- + H+ –› CO32- + 2H+
These reactions control the acidity (pH) of seawater.
Organisms use carbonate ion and calcium ion to make calcium carbonate shells, which sink after the organisms die to form calcareous sediments.
10. Another important group of nonconservative substances dissolved in seawater are the nutrients.
These are fertilizers essential for the growth of plants, including algae.
Major nutrients include nitrate, phosphate, and silicate (the latter required only by siliceous organisms).
Nutrients are depleted in surface waters, where plants grow, and are found in higher concentrations in deep waters, where the plant and animal remains that sink from surface waters decay.
Whyalla, South Australia
Ballarat, Victoria,
Malaysia, Kuala Lumpur
Adelaide, South Australia
Brisbane, Queensland
El Monte, California
City of Fairfield, Australia
Ecuador, Quito
Chicago, Illinois
Charters Towers, Queensland
City of Hawkesbury, Australia
If you can't come to Hawaii, the next best cleanse is Colon Cleansing
http://www.captaincolon.com/articles.html